MF710 Hemispherical Array for Sound Power
Introduction
MF710 are hemispherical array designed by BSWA for sound power measurement.
MF710 meet the requirement of 10 microphone method according to GB 6882-1986, ISO 3745:1977, GB/T 18313-2001 and ISO 7779:2010.
The MF710 were designed as small, light and easy to assemble fixture. Microphone can be mounting on the hemispherical surface very quickly and accurately, so that in accordance with the standard requirements for sound power measurement becomes very easy. BSWA also provide multi-channel data acquisition device and software to working together with the fixture for sound power measurement.
Product Features
Meet the requirement of GB/T 6882, ISO 3745, GB/T 18313, ISO 7779
Microphone can be moving along the track to meet the 10 and 20 microphone method
Various type microphones with 1/2" preamplifier could be mount
It can be fixed on the ground or can be hung and installed as a whole
Easy to assumable, light weight and compact structure, supplied with professional packing box
Suitable for sound power measurement in laboratory and outdoor
Application
Sound Power Measurement in Hemi-Anechoic Room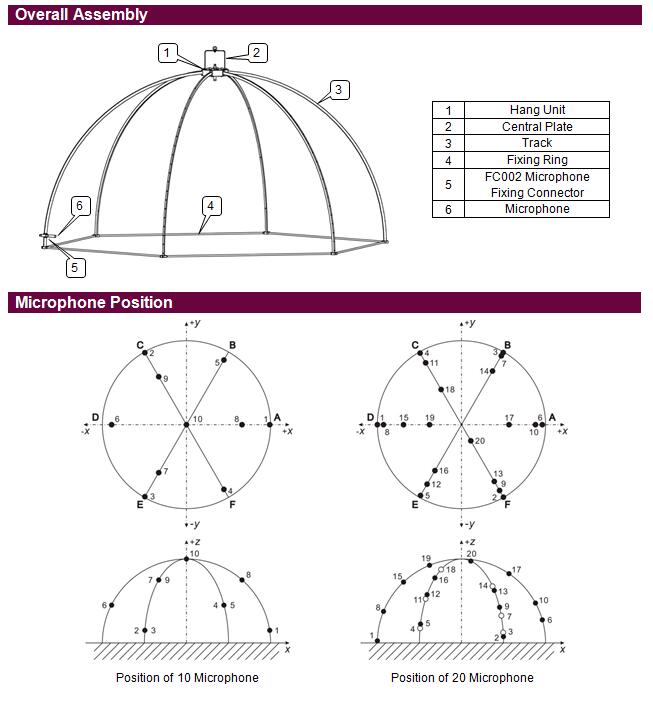 Technical Parameters
| Specification | |
| --- | --- |
| Type | MF710-XX1 |
| Standard | GB 6882-1986, ISO 3745:1977,GB/T 18313-2001, ISO 7779:2010 |
| Application | 10 Microphone for Sound Power |
| Microphone | 1/2" Microphone |
| Radius | Optional: 1m / 1.5m / 2m |
| Weight (only hemispherical array) | -10: 6.8kg / -15: 10.9kg / -20: 17.7kg |
| Dimension of packing box (mm) | -10: W1565 X H165 X D417、-15: W2266 X H165 X D566、-20: W1416 X H 225X D417 |
| Note 1: | -XX is the radius of fixture. -10 = radius 1m, -15 = radius 1.5m, -20 = radius 2m |
Download information:

BSWA-III-C021-05-P0016_Brief